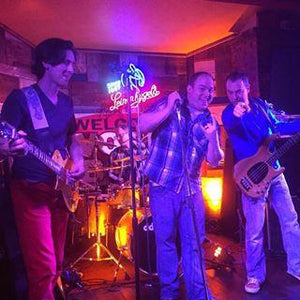 No Cover Charge: 08/28/21 Live Music featuring Half Vertical
Regular price $ 0.00 Sale
Join us for our monthly Live Music at Van Wijk Winery!
Click this image on our website "Home" page for details on this "Upcoming Big Screen & Live Performance Venue" event.  Create and use your online Account to build promotional points!
Venue: Van Wijk Winery, 802 4th Street, Sully, IA 50251 (Open 12pm - 10pm)
Weather permitting, this will be hosted on the outdoor Deck and in the new Courtyard on the south lawn for your listening and dancing pleasure. In case of rain or extreme heat, we will move it indoors to our Ballroom.
There are 7 new pergolas available in the Courtyard that are available either by first-come-first-serve or by renting to reserve them exclusively. 
Date:  Saturday, August 28 | Live Music 7:00 PM - 9:00 PM (Typically hosted Fourth Saturdays (Mar - Nov)
Featured Musician/Band:  Half Vertical (Adam Hubbard and Mark Timmerman)
Tickets: No Cover Charge, but TIPS are always appreciated. We strongly recommend adding your seat(s) to this cart ahead of time to reserve your seats as this venue sells out quickly!  
Reservations:  Reserve your seats by either logging in to your Van Wijk Winery Account, and adding the number in your group to this cart and checking out, or calling the Winery at (641) 594-3325 and clearly providing your first/last name for the reservation, number in your group, and expected arrival time. Other social media and IM requests are no longer monitored.  
Bring your friends and kick up your heels! Discover local talent and enjoy some Classic Rock and Original Songs. Our winery is generally considered family friendly; however, this event is intended for guests age 18+.
Beverages/Food:  Select from our Tasting Room menu featuring a variety of Wines, Meads, Beers, Bloody Mary Mix to make Red Beer, Specialty Coffees, Italian Sodas, Teas, Hot or Cold Specialty Beverages, Water and more.  We offer onsite Appetizers and weekly Small Plate specials (while supplies last).  
BYOF Permitted: You may bring your own food, but in that case, please pick up after yourselves and bring your own paper/plasticware and napkins. If you forget, we do offer them for a convenience fee.  See Winery Website for frequently asked questions.
Prohibited:  Absolutely NO outside beverages of any type may be brought into or anywhere else on winery premises - including water.
Tasting Room: Our Tasting Room is open and we will help you select a wine to purchase if you have never been to the winery.